Author: Carmen | October 21, 2009 |
Test
---
Last Friday, we published our very own quiz on Facebook. Taking the quiz reveals what type of chocolate you are, and what type of personalized chocolate bars are most fit for you. This week, we will portray those chocolate types in detail, both on on this blog and our German blog. Take the quiz now to find out what type of chocoholic you are!
Today in our series of chocolate types: chocri-overload
The chocoholic that can never get enough and wants it all! 'chocri-overload'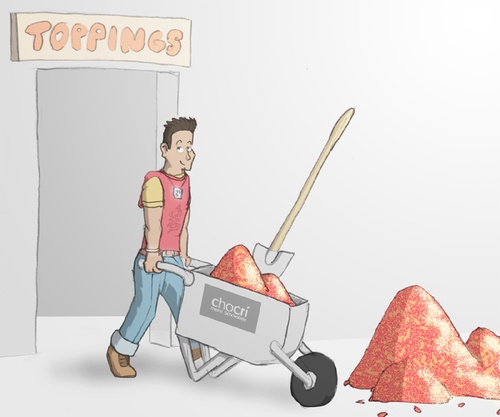 You are the kind of person that can never get enough: Roasted Almonds? Yes! Gummy Bears? Of course! Candied Rose Petal? Heck yes! Constantly indulging in the adventure called life, you make no compromise when eating chocolate. Your bar is as full as your calendar. Perfect for you is…everything: let your imagination run wild!
And here's the matching chocolate bar for the chocri-overload type:
Fully packed with all the good stuff your heart desires (well, for this one bar): Gummy Bears, Sprinkles, Sour Cherries, Roasted Almonds, and don't forget the Candied Rose Petals. An orchestra exploding in your mouth!
Our very own chocri-overoad chocoholic: Micha Bruck, one of our founders.
Leave a comment if you are a chocri-overload, too!
You are what you eat. Eat chocri!
Tomorrow: The fearless chocoholic: challenge-chocri!