Author: Carmen | December 10, 2009 |
Chocolate
---
As you well know, with chocri you can design your own chocolate bars. However, with more than 10 billion possibilities, it's easy to be overwhelmed with choice. That is why we have (in Germany) and will have (in the US) recommended, popular and recent creations on our website.
Today, I'd like to introduce you two three of our recommended creations:
Top 5 In One:
Simply the best! Our 5 most wanted toppings on our most popular chocolate base. You can't go wrong with this one.
Ultimate Nut Bar:
A chocolate bar fully packed with a selection of the most delicious nuts. The native pecan, the European walnut, and the queen of nuts: giant macadamia. Topped off with crunchy hazelnut brittle. You'll go nuts!
Summer Fever: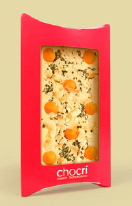 It's summer? Midsummer? It hasn't been summer for way too long? One way or the other – this bar creates good vibes with refreshing toppings.
Mhm, yummy :)
p.s. We also have a blog post Recommended Chocolate Bars I if you want more!