---
As sweet as it is to work for a chocolate company, the (still kinda sweet) side-effect of success is: a lot of work. That's why I'm relieved and rejoiced to welcome two new members to the team: Mina and Kim. We were originally looking for one intern, but completely swamped with applications by amazing candidates, so we decided to ask both Kim and Mina to help us out - and they said yes!
It is my lucky task today to introduce you... (drumrolls)
Mina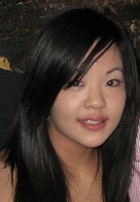 "I was born with the unfortunate predicament of being allergic to chocolate. Every Halloween I would tearfully pick out the chocolate from my candy stash and hand them over to my brothers to forcibly "trade" them for the stale hard candies given out by the senior citizens on my block. I thankfully outgrew this allergy when I hit my teens and have never looked back!
Born and raised in New York, I am Korean at heart (and by heritage). Some goals I hold near and dear to me include becoming fluent in Korean, working at a startup, and launching/developing a new product for a company. When I'm not dreaming about what I want to be "when I grow up," I enjoy indie and punk rock music (recommendations always welcome), growing my shoe collection, and dancing when nobody is watching.
I look forward to joining the chocri team and spreading the word about the billions of delicious (and fair trade!) personalized chocolate bars."
Kim
"I'm a blogger and internet marketing fanatic with a passion for e-branding and e-tailing. Throughout my career, I've worked mostly for start-ups and had my first experiences with mass customization in spas and at beauty companies. After a long stint making creams, cleansers and spreadsheets for luxury skincare brands, I jumped at the opportunity to work with another lifelong passion- amazing chocolate.
When I'm not pondering new chocri combinations or poring over candy news, I'm often creating in digital art or playing air hockey. My favorite chocri combination is white chocolate with bourbon vanilla, chocolate coated rice crispies and toffee bits."
You can expect to see more of them on this blog and on Twitter and Facebook. See you there :)