---
For a while, we've been hearing from Canadian friends on Twitter and Facebook who have been keen on creating their very own chocolate bars. So we're very pleased to announce this week that your requests have been heard, and just in time for Canada Day, we're officially open for business in Canada!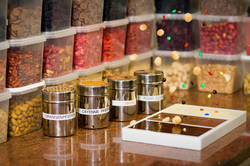 In a press release, Carmen discusses our Canadian opening:
"After receiving hundreds of requests to bring customized chocolate bars to Canada, chocri makes those wishes possible with the launch of createmychocolate.ca. "People emailed me and told me that they love the concept and can't wait to order!" says chocri USA CEO and chocolate enthusiast Carmen Magar. "Many websites have sprung up in the last 10 months that let consumers co-create everything from dress shirts to jewelry," Ms. Magar says in between mouthfuls of a custom Chocrilicious bar. "Why not chocolate? Our friends in Canada are certainly ready."
Perhaps you're Canadian and new to the chocri concept. The press release also explains how chocri works:
"What is chocri? It's Bertie Bott's Every Flavour Beans in a chocolate bar, minus the less popular earwax and rotten egg varieties. First, you choose a chocolate base (dark, milk, or white) for your bar. Next, select from over 100 toppings ranging from traditional favorites (Nuts! Dried fruit!) to exotic flavors (Chives! Jalapenos! Bacon!) to bold embellishments (Gold flakes! Silver pearls!). Finally, sign your creation with a personalized name printed on the package. Make your own "Happy Birthday" bar, celebrate by giving a "50th Anniversary" bar, or kick back with an "It's 3PM on a Friday, and I Just Don't Care Anymore" bar."
To mark our official Canadian opening, we have 50% off shipping for all Canadian orders placed before the end of the day July 9th. And for newbie customers for up north, you should also know that for every five chocri bars you order, forever and always, we include a sixth surprise bar on us.
Happy birthday, Canada!